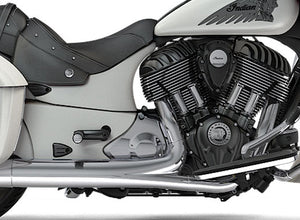 The POWERFLEX Header is made from a stock Indian header. We re-fit the restrictive, power-grabbing section of the header with our own POWER chamber. Gain Horsepower and Torque and eliminate excess heat coming off the side of the bike.
PowerFlex Performance Headers fit Indian Chief, Chieftain, Springfield and RoadMaster bikes. For Thunder Stroke 111 Bagger Touring Bikes.
Only $224 after your core refund.
This item is currently on backorder. Please call us for availability.